I wish there was a way for me to accurately explain my anxiety coming up with something worthwhile to say after reading the below review.  How can I even come close to writing something that would be as meaningful? It's impossible – but that's how you feel when your'e around Ms. V. – she's so charismatic and great with words!
What I do remember most was how EASY and fun the session was.  She was up for trying new posing which always makes my heart soar!  And the best part is they turned out incredible.
What I'm starting to notice after photographing boudoir for 4 years is actually something I can advise future clients:
1. The more vulnerable you are with me, the better your photos turn out.
2. Read the prep guide and take it to heart!  Please trust what information I give you is to help your session be the BEST it can possibly be!
3. Show up with a positive attitude and ready to have a great time.
Ms. V, thank you SO MUCH for your kind words.  You are incredible and  I know I'll get to see you again!!! <3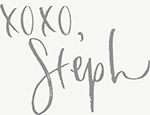 _______________________________________________________________________________________________________________________________
I had been thinking about doing a boudoir session for years – okay – a decade. I had called/emailed a few photographers over the past year and hadn't pulled the trigger because I didn't feel a connection with the photographer or their work. I was scrolling through Facebook and saw where a friend had shared Stephanie's page. The picture on the post caught my attention immediately! It was so different than what I was seeing on other photographers' pages. Also, her narrative (story) resonated with me and I thought she would be someone that would "get me".
During my phone consultation with Ashlee, she confirmed what I suspected, that I would love Stephanie and she was the photographer I was supposed to work with. They made the process so seamless; from explaining the prices, to hair and makeup, I really just had to show up with some outfits and Stephanie would do the rest, so I booked my session on the spot!
When I was asked why I was doing the shoot, I was honest and said it was totally a gift for myself. I had an abysmal decade involving several miscarriages, 2 major back surgeries requiring months of therapy, the loss of my mother, 3 unexpected moves, a contentious divorce, and other health scares, I had high hopes for this decade! However, throw in a pandemic, mass rioting and a Derecho, 2020 wasn't looking so good either. I needed to salvage 2020 and have something positive to show for it.
The instant that I saw Stephanie at the door with that warm, beautiful smile of hers, I knew I had made the best decision and all of the fears and insecurities disappeared. Not only did I love Stephanie from the get-go, Lindsey (makeup) was amazing too! She worked her magic on my face while I recapped my decade of hell to get me to that day. I also realized that Stephanie and I shared some commonalities surrounding our personal lives, which made the experience feel more like hanging with your best girlfriends for a day rather than a professional photographer about to take some very intimate photos of you.
I loved everything about my experience with Stephanie! I can't remember the last time that I didn't pick up my phone for over an hour, or even think about picking up my phone. Stephanie really does make the entire time you're in her stunning studio all about you and making you feel confident and comfortable; to help prove her point, she would take a photo and excitedly show me the photo as we went along to help me see what she was seeing. I remember thinking this was going to take her forever to do the shoot if she kept it up, but now I understand the method behind her madness lol; trust her, she knows what she's doing!
I left that day feeling like a huge weight had been lifted; it's really hard to explain, but it was like she helped me close a door to a chapter in my life that I was having difficulty closing on my own. I had always wanted to do a boudoir shoot and had even been told that I couldn't do it and that it was a silly thing to spend money on. So, when my session was over and I had ordered my pics, I walked out of there more confident and with a serenity I had never experienced all because of Stephanie's encouragement and her commitment to making the experience one of a lifetime! I would do it again in a heartbeat and have told everyone that will listen to me that they need to work with Stephanie.