I knew Jeighce was in my VIP group because she was so great at commenting on posts and supporting me and other women.  When she contacted me and we chatted over the phone, I pinched myself.  I get to work with women like her who I adore EVERY DAY in my studio and I couldn't wait to meet her.  Her session was so laid back and fun and we got more photos from her session than from most sessions.  I couldn't be more thrilled that she's allowing me to share them and her story with you.  Enjoy!!!
Hair & Makeup artist: Cheyanne Yonkovic, Capri College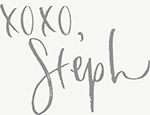 _________________________________________________________________________________________________________
I was on the edge about scheduling a boudoir session for a very long time. I've always wanted to do one and I've been trying to gather the courage for a few years now. My goal was to get it together and do a session as a wedding gift to my future husband. As I'm obviously not engaged or getting married, I decided I wanted to give it a test run first.
Like many women, I'm not too fond of my body. It's not a size thing- but more of a stretch marks, wrinkles, and acne kind of thing. I'm not very photogenic and kept thinking, "Yeah right, this will never work." I got added to Stephanie's VIP group one day and just looked through the posts and saw how empowering she and all of the other women were. I started to think, "You know, maybe this will be a good idea". The longer I had been a member of the group the more I started thinking that this will work and I will make it happen. I felt so comfortable and like I had known Stephanie for years without even meeting her.
I was a little nervous the day of my session. Meeting this random person who is going to be taking half naked pictures of me, something's bound to go wrong. I was so wrong!  As soon as Stephanie opened the door I felt so welcome. During the session I felt so good about myself. There was a constant positivity in the room and when she showed me photos on the back of her camera I just kept saying, "OMG these are amazing".
It was probably one of the best decisions I have made for myself because, damn, what a confidence booster! I couldn't have been more happy with deciding now was the time to do a session and hiring Stephanie to do it.  Hoping that maybe within the next 5 years I can do it again for a surprise wedding gift!!!! Either way, I will most definitely be returning for another session and will always refer her to anyone else who may be curious about boudoir sessions. Thank you so much again and again for the most amazing experience and helping me boost myself confidence to a whole new level! You seriously rock!!!!