It's the best feeling in the world when my clients turn into friends!!!  Ms. FIRE's studio session was SO MUCH FUN and I was so excited about her wardrobe. (That red bodysuit and animal print heels??)
I'll never forget when she sent me a photo of her with friends drinking my custom "GET NAKED" wine.  My day was made!
"Ms. Fire" – don't you just love it??  Thank you SO much for this review and for allowing me to share your photos!  I can't wait to work with you again.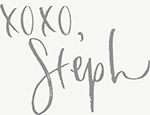 I originally booked my session as a surprise wedding gift for my fiance. I booked it the night before my birthday. On my birthday, my fiance informed me that for my birthday he would like to buy me a boudoir session, so that I may see myself "the way he sees me". I thought, how touching, but now I have to let the cat out of the bag! I guess great minds think alike! 😉
I'm not going to lie, I was super nervous about it, because like most women, I'm my own worst critic. I had no idea what to wear, how to stand, how to do my hair or makeup. I never saw myself as beautiful or sexy and, although I had seen all of Stephanie's amazing work, never could fathom myself in that light.
I walked into Stephanie's house and was greeted like I had just walked into my girlfriend's house. Any self-imposed pressure I had originally felt just melted away. I sat down and let Lindsey work her magic on my makeup. She asked some questions to make sure she nailed my makeup in a way I could invision myself (you know, the beautiful, sexy vision of myself… the one we keep in the very back of our thoughts.) Once again, it was like sitting with a girlfriend. We chatted it up and before I knew it, we were done. She nailed it. I felt so beautiful!
Now it's time to get started. We go to Stephanie's studio. It's so lovely in there. We used a couple of pieces I brought, but also dove into her closet. She found pieces that made me feel beautiful. She was able to guide me in poses that got the most out of the picture. Not even kidding, she even adjusted my fingers once because I they were ridged (that was at the beginning when I was getting my jitters out).
A couple of times, Stephanie turned the camera around and showed me. Sometimes I think she was more excited than even I was! Honestly, the hardest part of the whole experience was when I came back to try to narrow my selection to which ones I liked most. She even helped me (without imposing at all) to select the "best of the best".
I highly recommend anyone that ever thought about doing one of these to go to Stephanie. She went from someone I hired to do this shoot for my fiance, to a friend… and almost instantaneously. Her heart is even better than her amazing eye for photography. I absolutely loved my boudoir shoot and am so happy I did it!