No less than a week or two after I posted in my VIP group saying someone needed to do a session with donuts, this babe walked in with a half dozen to use for her session!!!  AAAAnd of course she shared!!  Now THAT is my kind of client!!
If you want to bring food to your session I always recommend something you put directly into your mouth – nothing you have to use utensils for.
We had too much fun (when don't we??) going through wardrobe and picking out a few unique outfits.  Everything but the black two-piece is from my client closet and the light pink bodysuit is from Greece!!
Boudoir sessions are empowering.  Plain and simple – if you walk in to my home super nervous and you don't leave feeling like a badass queen who can accomplish anything – I haven't done my job.
I just know I'll see this babe again.  She made my job way too easy!!
Thank you so much for this review!!!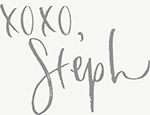 ________________________________________________________________________________________________________________________________________________
I have always wanted to do a boudoir session, and even more so after I saw Stephanie's work. I kept talking myself out of it because I don't have a significant other to give the photos to (I've been divorced for 7 years now.) One evening, one of her photos came across my Facebook newsfeed and I just decided that I was doing this and I don't need anyone to give the photos to because it's for me. I was feeling anxious but super excited when I booked my session.
The whole experience was a lot of fun. It was my first time getting boudoir photos done and my first time having my makeup professionally done. I felt so ready to do the session, because I had wanted to for so long. I think I told Stephanie how excited I was like 18 times between the time I arrived and left! I utilized her client closet and liked the pieces that Stephanie helped me decide on. I brought a few of my own pieces and used a couple of those as well.
My favorite part of the whole experience was that I didn't feel flawed or think about my imperfections the whole time I was there. I felt confident and had a blast. Then when I saw my photos I was like damn, that's really me?!
I'm glad I decided to spoil myself a little bit and book the session with her. I love all my photos and couldn't be happier with how they turned out. I would and I plan on doing another session with Stephanie in the future. Maybe an outdoor one!