I'm going to start naming these blog posts based on something that stands out to me in each session.  Besides the obvious – her stunning eyes and her killer curves, I noticed she knocked it out of the park with her wardrobe (and those purple sheets!!!) so of course I named her Ms. Jewel Tones!!!
I remember this session because I felt it was WAY too easy – not only was Ms. J effortless in front of the camera, I could tell that she took the preparation and wardrobe information to heart and let me guide her through the process.
I wish I could give you bear hugs EVERY DAY!!! Thank you SO much for this honest and really vulnerable review.
You're incredible – and I'm so happy you have a canvas and an album to celebrate yourself with!!!
(Also, thank you for putting up with my terrible dance moves… and probably my singing, too.)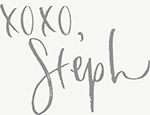 ________________________________________________________________________________________________________________________________________________
I had a pretty rough last half of 2019. I battled depression and got to a point where I felt like I had lost myself. I had been added to Stephanie's Facebook group a while back and saw that she was having an open house in January. I went by myself, honestly terrified as I knew no one. I'll never forget her warm and infectious embrace and welcoming of someone she didn't know. I knew right then this was the perfect start to making 2020 a year about myself, so I decided to book a session!
When booking my session, I was excited but also nervous. I struggle with body issues, especially since having my daughter a couple of years ago. Having seen Stephanie's photos though, I had no doubt she would make me look and feel amazing! I came into the session with full intentions of it being a gift for myself. I knew my husband would enjoy the photos but it was really more about empowering and loving myself.
The experience was amazing. Stephanie was so open, sweet and welcoming. She really makes you feel at home and is 100% professional the entire time. It can be daunting and a little scary being nude and/or nearly nude in front of someone you don't know. Stephanie quickly dissipates any of those feelings. She focuses on the task at hand while still making you feel comfortable.
My session was a lot of fun and it's truly amazing how Stephanie can make you feel gorgeous even when you are extremely critical of yourself. She's very genuine as well. It never seemed like she was saying nice things just to say them. She truly is sweet and genuine. I would absolutely 100% do another session!
I mostly enjoyed the overall vibe of the photo session. Stephanie had music playing, she was dancing around, and was upbeat and excited. You can tell how much she loves what she does. Her upbeat attitude was very infectious and truly helped ease any kind of doubts or insecurities I had going into the session.