I know Ms. Confident had been through a lot of challenges with her health and needed to do this boudoir session, but what we never know is how the session will truly impact someone's life until after.  Sure, I can show you all the most amazing photos I've ever taken, but you'll always doubt whether or not YOUR photos will look as good!  Trust me, you'll be very happy.
I remember this session because Ms. Confident was so easy to work with. I can't stress enough how important a professional hair and makeup team are AND how crucial reading the entire wardrobe/prep guide is to the quality of your experience and photos.  You deserve the BEST team and information – which is all I would expect for you when you do decide to invest in this experience.
Ms. Confident -I'm so thankful this session changed your life (thank you so much for this review) and even more grateful that I know you!  You're strong, beautiful and an amazing mama.  Can't wait to see you again!!!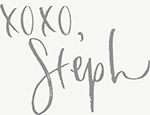 ______________________________________________________________________________________________________________________________________________
I had always wanted to do a boudoir photo shoot when I was younger. But after almost 12 years of marriage, 2 kids, and a life changing disease, I figured that was a dream I should let go of. I felt like my body was no longer attractive so what would be the point? Then I was introduced to Stephanie's Facebook page!
Stephanie's photos are GORGEOUS! Every woman she takes pictures of are so beautiful – but could she really make me look that way too? My body was not tiny and petite. I have scars from children and surgeries. I'm not what anyone would consider a "girly girl" and I don't wear makeup. Can I really look sexy? So I thought, "let me just call first! What can that hurt?" Stephanie was so kind instantly! I felt like I knew her right away! She made me feel so comfortable over the phone that I booked my photo shoot right then!
I knew I wanted hair and makeup done because, unless it's a ponytail, I have no idea what I'm doing! I called the wonderful ladies that she suggested and was thrilled that they both were just as great as she was! I felt at ease the whole time!
During the shoot, Stephanie made everything feel so at ease! She gave great direction, made me feel so comfortable, and helped me feel like I was the hottest woman alive! During the time I was there, I felt my confidence rise higher than ever before! When I was done, I felt AMAZING!
Originally, I wanted to give my husband a memorable 12 year wedding anniversary present, but it ended up being so much more! I had felt that after 12 years together, I owed him a look at what we use to have before kids and medical issues. I wanted him to remember who I was and who he had married so many years ago. Instead, I remembered who I was! I found my confidence again! I found my self love again! And, while I'm being honest, I found my sex drive again! My husband and I are both grateful for this gift that Stephanie gave us! She is not just taking photographs, she is changing relationships! Relationships between couples and relationships with yourself! I will never forget the look on my husband's face when he opened his present or the rest of that night that followed!
If you are on the fence about getting boudoir photos done or feel like you are not going to look gorgeous, just do it! Stephanie has such a wonderful gift of helping women find love for their inner self! I can never thank her enough for everything she has done! I will definitely be booking another session with her in the future!