I'm the first to admit that I only really remember the conversations and fun we have during sessions.  Why do I say this? Because I know so many women are afraid of standing in front of me in lingerie OR are afraid of how they will look.  This vulnerability is difficult for a lot of us.  So, when I say I don't remember much of the session (helloooo being focused) it's to help you realize that those "imperfections" you see?  Not only do I not see them during the session, but I don't even remember your wardrobe or anything afterwards.  I'm like a nurse in that respect!
As much as I want to divulge our conversations and the way the women said they felt during their session in order to sway someone into booking, I leave this completely up to them.  It's THEIR experience, not mine.  And I couldn't be more proud of how this woman planned and approached her session, SLAYED it, and with this incredible review.  I can't thank these women enough for being vulnerable and putting part of their story out there for other women to read… in hopes it helps to change someone's life.
I just know I'll see you again.  THANK YOU from the bottom of my heart for trusting me to do this for you and for your insanely sweet words!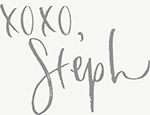 ______________________________________________________________________________________________________________________________
I was TERRIFIED to commit to scheduling my session with Stephanie. I never thought of boudoir photography as empowering and beautiful until I came across Stephanie's work on Facebook. I began to see boudoir for SO much more and fell in love with the strength and stories of each woman Stephanie photographed. I became obsessed with her work and her badass attitude, however I was having a hard time justifying spending the money on ME.
I finally discussed the idea with my husband… as the idea of a boudoir session with Stephanie just kept pulling at me, particularly after a very trying year personally. I wanted to do this for ME. To prove to myself that I am strong, capable and SEXY. I never before identified with the word sexy, ESPECIALLY after becoming a mom. Stephanie made me feel so excited and eager after our initial phone conversation, so I made the commitment to start saving my pennies so I could finally book my shoot!
I probably did a little too much lingerie shopping before my shoot…but because I was SO nervous, I felt like it was the only thing I could really control. I had fun with it, as I had never really bought much lingerie in the past. Stephanie had such a great list of different places to shop for lingerie…there is so much more out there than Victoria's Secret! As Steph will always tell you, what you wear is the least important part… well she was definitely right, but now I have a fun closet of lingerie too (but she does have a fabulous client closet if you do not want to shop!)
PLEASE listen to Stephanie and hire professional hair and makeup for your shoot! If you are investing in a shoot as it is… do not skimp there. ESPECIALLY the makeup! I had never had my makeup professionally done before and unfortunately now I wish I could have it done all the time! Michelle and Lindsey are absolutely incredible and really add to the experience of the day!
I was so pleasantly surprised how instantly comfortable I was at Stephanie's house for my shoot. I can't believe I can say this, but getting naked was EASY! All of my insecurities immediately went out the window as Stephanie genuinely complimented me and my body the entire shoot, and I LOVED when she gave me a few sneak peaks of my photos while we were shooting!
I'll admit, ordering was a little stressful as I am not always the best at making decisions! Stephanie made it that much harder because there were SO many photos I loved. I also loved that Stephanie does not allow any personal negative comments while looking through your photos. Sure there were photos I did not like as much, but not being able to pick my body apart was empowering in itself.
I could not be more thrilled with my photo album! The quality is amazing and I love pulling it out after a hard day or whenever I need a little self love. I showed the pictures to my husband for the first time as a Christmas gift and even though this photo shoot was for me… watching his face while he looked at the photos was amazing!
If you have been wrestling with wanting to do a shoot… DO IT! Stephanie can capture the beauty in every body, and if finances are holding you back…you CAN make it happen if you really want to! I tucked away money in to a little envelope for about a year before I felt comfortable scheduling my session!
I would LOVE to do another session with Stephanie. Honestly if I could afford to do one every year I would. I have never felt so vulnerable, proud, strong and SEXY in my life! Stephanie I can not thank you enough for such a transforming and beautiful experience!