There's nothing like having over thirty boudoir sessions ready to post – and constantly forgetting to! I'm so excited to share ALL of these sessions – especially Ms. K's (even if it was photographed in 2020!)
This was such an exciting session, but please take note how many times the women in these stories say they almost cancel and don't show up the day of their session.  So when you're in this position, PLEASE KNOW it's a totally normal feeling!  Do your best to show up at my door and I will take care of the rest!!
Thank you SO much for taking the time to write a review, Ms. K!  I have LOVED watching your beautiful family grow and can't wait to see you again!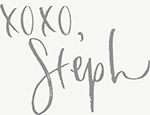 _________________________________________________________________________________________________________________________
I wanted to do a session originally as a gift for my husband. But it turned into something I was proud of myself for doing. I got out of my comfort zone and embraced my body! When I booked my session I felt excited, anxious, scared. I almost cancelled the day of… I'm so glad I did not!
I could write a whole novel about how wonderfully amazing Stephanie is. Not only a photographer that has an eye to capture perfect moments, but an even more genuine person all around. She truly loves what she does and it definitely shows when communicating and within the studio. I did not do my hair, as I love how my hair falls naturally, but my makeup was done by Lindsey and it was absolutely perfect!
Other than being nude all my outfits were from Stephanie's client closet. I loved all the different items to choose from!
The day in and of itself was just an amazing experience. We played fun, upbeat music and I was just dancing and prancing around having the time of my life. Also, looking at the final pictures on ordering day was another favorite part! Seeing myself, not believing it was truly me was just an eye opener that something most people are scared, nervous or have negative thoughts about I did! I share my photos with friends like it;s no big deal now, I'm so confident in myself and happy I did it. I would 100% do it again!!