Meeting Jes for the first time was like hanging out with an old friend. She's so charismatic and down-to-Earth that you just can't help but love her! I know Lindsey and Rhiannon had a blast getting her dolled up for her session – she's so beautiful and her hair is so unique, how could they not?
I know all women are nervous at the beginning of their boudoir session. But Jes totally slayed it and I could have photographed her for hours. I really can't wait to get this beauty in front of my camera again.
I'll admit, I tear up when I read reviews. Not all jobs end with such an amazing and uplifting outcome and I truly feel like I have the best job in the world. Jes' review is a little different (way more tears) in that she's really vulnerable with how she felt and about her past. I really hope you take some time to read it because I can guarantee you've probably felt the same as she did at least once in your life.
Thank you, Jes, for trusting me to do this and for really taking the whole experience seriously. I can't WAIT so see you again!! <3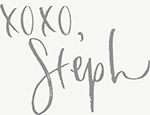 ________________________________________________________________________
A Boudoir photoshoot was always something on my bucket list, an item I dreamt of crossing off the list once I had that rocking body and someone special to share it with. I came from a family of gorgeous women (and men) but felt like those genes seemed to have missed me. I envied the natural beauty they had, their confidence, and the positive attention they received. As I grew older, I still lacked this sense of who I was because I was always focused on trying to be someone else. About a year ago I came across Stephanie's Facebook page for her boudoir photography and I was in awe of the all the beautiful women and how confident they were portrayed. After months of following her posts and reading what each woman experienced, a miracle happened; I got took a leap of faith and was able to confirm a spot in Novembers Marathon Weekend!
As I stood on the front porch and rang the doorbell, I began to feel nervous; that was until I saw this bright smile through the glass pane. The door opened and I was greeted with a warm welcoming hug from Stephanie herself. We instantly began chatting and laughing as if we had been friends from childhood. Then I met the "Dream Team" as Stephanie calls them (completely fitting!). Lindsey and Rhiannon are just as welcoming and warm as Stephanie. They totally add to the experience and besides their artistry in hair and make-up, they provided additional support to keep me calm, happy and allowing me to feel confident and beautiful before ever stepping into the studio.
When it was my time to step into the studio, I was amazed at all the different set ups Stephanie had. Stephanie showed me around, we discussed ideas and outfits and she walked me through how the session was going to go and answered all my questions. In the beginning, I did have times where my nerves would start to creep up, but she was great at making me feel relaxed and showing me photos she took along the way; I NEVER felt uncomfortable (yes even full nude). Stephanie's energy was contagious and the photoshoot was so much fun, it's hard to describe the feeling but I will tell you I left on the best high, feeling beautiful, and like a total badass!
On the day I went to see my unedited photos, although I had such a great experience, I was starting to feel scared and nervous. I started trying to create what I thought would be reality, thinking that I would hate most of my photos especially those that bared all and preparing myself not to break down and cry in front of Stephanie. But Boy was I wrong!!
Again, when I arrived, I received a warm welcomed hug, smile and laughs! As we started to go through my photos, I was speechless and in awe of how gorgeous they turned out; I had never seen myself as I was amazed at how Stephanie was able to bring out such beauty even in the simplest of outfits. The photos more than exceeded my expectations! I left with yet another great experience and another high that gave me a permanent boost of confidence.
The passion and talent that Stephanie has for photography is out of this world, I can't even describe it; but I don't need to… it's evident in each photo she takes. Before the shoot I was upset with myself that I didn't lose the 10lbs I wanted to, gain a natural tan, or bring that very expensive and sexy lingerie like I wanted to; in the end none of these mattered. All the the things I "didn't" do were washed away; because I DID conquer a fear, I DID gain a new sense of confidence, and I DID learn to finally love and embrace my body!