There's only one thing I care about when I photograph a boudoir session and one thing I ask my clients afterwards: "Would you do it again?" So far, thankfully, the answer has always been "yes".
And now that I've been doing this over a year, I'm starting to get repeat clients.  It's the best feeling E.V.E.R.
I was thrilled when Megan hired me for her second boudoir session after she got engaged.  When my clients come to me for the second time (and some for the 4th time!) I know we're going to get some amazing images for them to leave with because nerves are much lower.
Megan is a natural in front of the camera, though she'd never admit it. And we had the best time!   The things I loved most about her session: Her wardrobe was perfect.  All her outfits coordinated with each other and fit her really well.  And (duh) I LOVE her hair and makeup.
Cheers to you and your wedding planning, babe.  I'm so thrilled you found the love of your life.  Your face is simply glowing with happiness!
*Read Megan's review below and watch her live album reveal at the end!! <3
Hair:
Rhiannon at Lavish Beauty
Makeup:
Lindsey Faber: Makeup Artist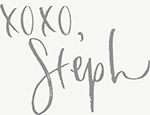 ________________________________________________________________________________________________________________________________
I never know how to start things like this so I'm just going to dive in. I wanted to do a boudoir session with Stephanie as an engagement present for my fiancé but also for myself. I had done a mini session with her about a year prior and loved it. I'll try to describe it the best way I can with words.
The morning started off with some nerves and butterflies. But more so excitement! I'm the kind of girl who loves having her hair and makeup done. The hair appointment went just as I had imagined. My hair looked beautiful and playful, just the way I had hoped it would look. It lasted all day too!
After my hair appointment I went to Stephanie's for my makeup. When you first walk in you feel those nerves again but it's so welcoming. There are treats and mimosas to calm those nerves! I appreciated that a lot! It gave me a boost of confidence. The makeup game was also on point! I was amazed. I've had my makeup done a few times and it feels so caked on and thick but this time it was different. She asked what look I was going for and she nailed it. I felt beautiful and my skin could breathe. I couldn't wait to start shooting!!
Then we headed into the studio and I got changed into my first outfit and then I felt my butterflies again. Her studio is beautiful and has light feeling, very clean and calming. There are several different options to try. It was just beautiful, she really has an eye for pattern and decor. There was music playing to help pump up the vibe. I came out of the dressing room and Stephanie instantly made me feel confident and sexy. She's a pro. She knows we all have insecurities and she works with you so you feel better and she knows how to pose you so you look your best. We shot for about an hour and it felt like minutes. We laughed through out the time. Stephanie compliments you and is so supportive through out the entire shoot. She showed me a few of the pictures on her camera and I couldn't believe my eyes. It all came together in that moment. All the nerves and anxiety were totally worth it.
The next step was the reveal session!! I couldn't wait to see them. There were so many to choose from and they all blew me away. I was shocked. I think I repeated "oh my god" over and over again. I couldn't believe that was me – not just because of how beautiful and classy I looked but because of how powerful and confident I looked. We chose several photos and decided on doing an heirloom album. The acrylic cover was stunning!!! I am so happy about the picture we chose and just how beautiful it is. I couldn't wait to show my fiancé. The book itself is gorgeous. The pages are thick and the way Stephanie arranged them is perfect! It was way better than I had hoped for and imagined. Thinking about it always brings a smile to my face.
I want to do this over and over again because it's such an empowering feeling. The VIP group she has is amazing – such supportive women and positivity. We need more of that today and she is the driving force behind it all. If you have any part of you that is intrigued by this please try it. You'll come out a stronger woman after. I also came out with a friend for life. Stephanie is worth the fear and price. My fiancé is also very happy. He looks at my book several times a week so I'm pretty sure we nailed it! I can't wait to book another session. Life is short. Live it and enjoy it and love yourself because there is only one you.