Sometimes I go into boudoir sessions and I'm nervous.  But being nervous is an unrealistic feeling because I've never had any issues arise that would cause me to feel that way.  But because every woman is different and I find myself melding with each personality, I worry that I'm bound to photograph someone who doesn't like or appreciate the experience I've worked so hard to provide for them.  Kadee was definitely NOT one of those people.  I could tell she was super fun in my VIP group before her session and when she won her session, she was by-far the most excited I've ever seen someone.  Her enthusiasm when she won made me feel so special, and I thought, "She is THIS excited about winning a session?!"  I really did have to pinch myself.
I'm really thankful for all of my clients.  I may mentally prepare myself for a difficult session each time to protect myself and my vulnerability, but I have yet to photograph a woman who isn't super thankful for their experience.  Kadee's review is below, and I'm super excited to show you images from her session (she used the claw foot tub!!). I've also attached a short video of her session I attempted  for the FIRST time.  I hope you love this.
The fabulous hair & makeup team:
Makeup: Lindsey Faber: Makeup Artist
Hair: Rhiannon at Lavish Beauty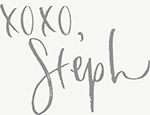 ______________________________________________________________________________________________________
I had been wanting to schedule a boudoir session with Stephanie for over a year after some friends had done their sessions with her. I always loved seeing her posts and the photos of all of the amazing women! After having a baby, I really wanted to get back into shape because I was feeling down about not looking the same. I was lucky enough to win a session with her and it really pushed me to do the shoot before I ever would have with my three month post baby body.
Stephanie was AMAZING. She was encouraging and helpful the entire time. Her hair and make up team were warm, friendly, and made me feel like I had always been a part of their glam squad. Stephanie played music and poured bubbly to get us all pumped up for the day. The studio was clean and bright. I really want her to come decorate my house. Stephanie's excitement is beyond contagious. I hadn't ever felt so comfortable in my post baby body and honestly felt like I had never looked better in my life!
Before starting, Stephanie asked me what areas of my body made me feel self conscious and her creative spirit confidently reassured me that I had nothing to worry about. Stephanie wasn't afraid to demonstrate her poses and breathing techniques for me, getting right in there with me and making it all even more fun. Between every sexy, perfectly posed photo, was the most laughs ever shared. During this whole experience, we learned so much about each other and became instant friends. Even as I sat in a bubble bath, completely naked, I felt at home. When reviewing the photos, I had the hardest time narrowing it down to my favorites because they were all so beautiful- especially the nude ones which surprised me in the best way!
Stephanie is magic. The lighting, make up, hair, vibes, angles, airiness- it all came together flawlessly. My products arrived so much quicker than I had expected and I could not wait to give the photographs to my husband. I've always been a huge advocate for self love, but Stephanie showed me how I could still see myself in an even better light. Her photos were me in a way I have never seen myself before. I encourage everyone to book a session with Stephanie. I've referred multiple friends to her and every single one of them have loved both the experience and her. I'm already eagerly planning out my next one!