I met Kadee when she came to me for her first session (you can see that here). It was magic – we even did a video of her session which was FIRE!!!
She's one those people you want to be around alll the time because she's so positive and happy.
When I found out she was pregnant and wanted to book a maternity boudoir session, I squealed!!
The session was a blast because we already knew each other.  Lindsey Michelle Makeup Artist did her makeup and as always, she looked flawless!!
I'm so excited to meet her daughter who will be born any day now!!!!
Kadee, thank you so much for trusting me again to do these photos, and thank you for this review below, which made me cry and left me speechless. <3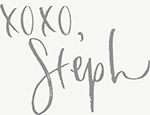 How do I even begin to describe my experiences with Stephanie? Stephanie is encouraging,
uplifting, inspiring, generous, relatable, funny, kind, energetic, positive, and so very talented. Stephanie
truly cares about her clients as if they are family and she makes every experience in her studio one that
will make you want to keep coming back to her.
My first session with Stephanie was when I was a little less than 16 weeks post partem. She and
her glam squad far exceeded my expectations by making sure I was comfortable, engaging me in
conversation, sharing laughs and dances, and getting hyped about the photo session. Stephanie made
me feel like a ROCKSTAR. She was so excitable; pausing sometimes to give me a sneak peek at what she
was exclaiming about on the camera. It was ME. She knows poses and how to work with your body
type, potentially hiding the things you're insecure about, and flaunting the parts of your body you know
you rock. Between each pose we shared so many laughs, I almost forgot I was naked. I knew I'd be back
to do another session with her.
Fast forward to less than a year later, pregnant with my second child, and thinking there's no
way I could do a boudoir shoot while pregnant even though I really wanted to take advantage of one of
her generous online specials. WRONG. When I told Stephanie I was pregnant, she was just as
encouraging and expressed to me the beauty that pregnancy and maternity boudoir had to offer. I
realized that with this being my last pregnancy, and it being a girl, I really wanted to document the love
and bond between mother and unborn daughter. I knew Stephanie would capture the heart of that so I
went for it.
Stephanie far exceeded my expectations. The poses were all comfortable and easy to do at 32
weeks pregnant but were still the gorgeous boudoir style. Stephanie shared in the love and excitement
with me, adding to her ever-loving personality. I can't say enough about how great Stephanie is as a
person – she truly becomes your friend through the milestones that you share with her. When I went
back to look at the photos, I was blown away. It was so hard to choose as I sat there staring in awe at
images of pure love and emotion. She did it. She captured exactly how I felt when I'd hold or look at my
belly. Thinking about my daughter coming into the world and knowing I'd have these photos forever to
show her how empowering it is to not only be a woman, but work with other women who lift you up to
this kind of beautiful level. These mean so much more to me than I even knew they would.
After getting my final images in the mail, I was flooded with emotion. My last pregnancy, my
baby girl, a bond that will never be broken, captured forever in a beautiful book of maternity boudoir by
Stephanie Marie Photography. I am forever grateful for Stephanie's talents and to know her. I highly
recommend her for both regular boudoir sessions AND for maternity boudoir. I've never felt more
beautiful.