Photographing as many sessions as I do, I always need to be reminded why I do what I do and why it's important for every client to do a boudoir session for themselves.  Sonya's studio session was one of them.  She showed up to get her makeup done by Lindsey after having her hair done by Michelle.  We chatted a little like we do with every client, but when it was time for her session, Sonya changed… into a freaking badass.  Something switched from being slightly nervous to "I can freakin' do this!" in that 1 hour.  I knew she was doing this as an anniversary gift for her husband, but it wasn't until I received this review (and a few other messages from her) that I realized she was doing this for herself.  Why?  Because for the first time in my boudoir career – a husband wasn't happy about it.
I was really shocked and sad for her but there's always a silver lining…  And in this case as with most cases, this boudoir session changed from being for him to being for HERSELF.  And ultimately that's what it should be about.
Sonya: thank you so much for writing this review and for spilling your heart.  I know it wasn't easy. <3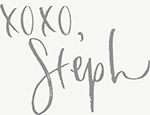 Makeup: Lindsey Michelle Makeup Artist
Hair: Michelle Theisen Konrardy at Meraki 2
______________________________________________________________________________________________________________________________________
Last fall I started working out and eating healthy.  I was ready for a change in my life.  I started to feel really good about myself and the progress I was making. I had been part of Stephanie's VIP Boudoir group for awhile and I finally felt comfortable enough with myself to schedule a session, which is completely out of my comfort zone.  It was going to be an anniversary present for my husband.  The 4th anniversary gift is Fruit/Flowers, Linen, or Silk. I figured he would enjoy floral lingerie way more than a bouquet of flowers.
I scheduled my session in January.  All of a sudden my marriage hit a rough patch.  I stopped working out and eating right. I just felt really down about everything. I kept my appointment because our anniversary is in August and knew everything would resolve itself by then and I would kick myself for not doing these.  I kept telling myself that I needed to get back into the gym to get ready, but my motivation just wasn't there.  My session crept up too quickly and honestly I wasn't feeling the best about myself.
When I got to Stephanie's house I was greeted with a warm hug, like I was visiting an old friend.  It should have melted my nerves away.  I mean I looked amazeballs thanks to Lindsay and Michelle. My hair and makeup have never looked better.  It's hard not to feel a little more confident when you know you look good.  We went down stairs and went through all of the items I brought.  Stephanie let me use an item from her closet which was perfect.  We laughed and joked. Stephanie is so good at making an awkward experience less awkward.  Honestly, I was still really nervous about taking the photos.  Until we actually started shooting.  After the first click Stephanie looked into her camera and said "YAS GIRL!" and after that it was constantly "You are slaying this" "This is amazing!" "You look so fantastic!" and "OMG these are going to be soo good!"   I left there on cloud 9!!
I was told that I should do this for me.  I didn't.  I 100% did this for my husband, but afterwards the feeling I felt was more uplifting than anything I would have ever thought possible.  I wish I had a mini Stephanie to carry in my pocket all the time to remind me just how awesome I truly am.
My husband found out about the shoot a few days after and honestly deepened the riff between us.  I look at the photos, that are now for me, and I still feel absolutely beautiful and get a sense of empowerment. I love having an app I can open when I need that feeling again. I ordered a canvas to hang in our master bedroom.  When I got it I was nervous to open it, not sure what I was going to do with it.  I opened it last night and WOW it is FREAKING AMAZING!  Now, I want to put it in a place that I get to enjoy it.  It will most likely go in my closet so that I can look at it every single day and start my day off with a bit of happiness.  Plus in my closet my husband doesn't get to enjoy the amazingness of it…LOL!
Anyone who is thinking about doing it…PLEASE DO!  I promise you wont regret it.  Even if you think you aren't  "___ enough" to have boudoir done, you are dead wrong.  It is the most energizing experience, that every woman should have at least once in their life!