I FREAK OUT when I get to photograph a couples boudoir session.  Like jumping up and down, happy dancing, all the good feelings freaking out.  There are all sorts of ways a couples session is better than a solo session, but the most obvious is chemistry.  Need I say more??
A+D were easy to photograph and we had the best time during their session.  Just wait until you see the photos – HOT HOT HOT HOT.  (I wonder if this will help my website SEO?  Do you think people are Googling "HOT HOT HOT boudoir photos"??)  HAHAHA
Thank you SO much for this review and for trusting me to do this for you both!  I'm thrilled you'd do another session!! 🙂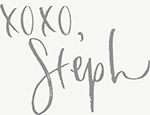 ___________________________________________________________________________________________________________________________________________
Let me tell you why I did a couple's session rather than a session by myself. I just got married and wanted to find ways to share different experiences with my husband that make us both feel out of our element. I asked him if he would do it with me and to my surprise he was willing to. That's when I got nervous… definitely more nervous for him than myself.  I was honestly excited not only for the whole couples boudoir experience, but to book with Stephanie – someone who is well known and talked about.
Stephanie: How sexy do you guys want to get?
Me: VERY SEXY!
Husband: I'd like to keep my shirt on.
My husband and I wanted to do something JUST for us! It was a gift for both of us that we invested in not only the products Stephanie offered, but the whole experience. Again, Stephanie does an amazing job capturing sexy, silly and love in the pics. Don't worry about coming up with ideas because she will have them ready for you.  We never felt uncomfortable when doing what she asked.  I got my "natural look" makeup done by Lindsey and she did an amazing job and I loved how it turned out! Booking an appointment with her was quick, she responded right away which was appreciated.  Rhiannon Bree was very accommodating and she did an amazing job on my hair.
Going into our boudoir session, I was nervous not knowing how well it will go and how my husband will react. Trust me, it was entertaining to see his reaction from start to finish. I have multiple friends compliment their boudoir experience with Stephanie and how she makes you feel comfortable which made me follow Stephanie's Facebook page to see her work. I loved how Stephanie captured all the ladies she posted on Facebook. I always said I wanted that to be ME one day, then I had the opportunity to experience a couple's boudoir session. During the session, Stephanie guides and poses you – all you have to focus on is looking sexy and doing what she tells you to do. The best part of her work is that she still takes pictures while you're laughing and that is what I love the most. Capturing our happiness and dorkiness is so important to us. My husband loved the experience and when we were finished he was surprised and said, "That was an hour and half already?!" He did mention that the atmosphere of the studio was more relaxing which helped him with his nervousness.
This whole experience made me feel invincible and made me look at myself in a different way. We judge our own looks and our body and sometimes I do catch myself doing the same. My husband wouldn't mind doing it again, I would do it again, but in a different scene for a different taste! My favorite part of the experience is being able to be myself with my husband and laugh about it. This made it my favorite because there's photographers that don't want you smile too big or laugh. I have had experiences with awkward poses and didn't look good after pictures are printed. At Stephanie's studio, she encourages laughter, smiles and dorkiness, it's what captures my husband and my relationship.