ON MY WEBSITE:
Boudoir is so much more than putting on pretty lingerie and taking pictures.
This is about giving a middle finger to the "perfection" we see on social media. This is about being real and comfortable in your own skin. This is about celebrating how you are uniquely different. This is about letting go of every negative thing you've ever believed about your body.
HOW TRUE IS THIS??
Through ANY stage in life, whether it be marriage, divorce, pregnancy, motherhood, dealing with trauma, increasing confidence, celebrating your body – these reasons and so many more are all reasons to celebrate YOU!  What we hear most often from women is, "I can't justify spending this money on myself."  And it makes me want to shake (and bear hug) all of them so they knew that treating themselves would end up being one of the most empowering things they can do for their soul!!!
I remember Ms. A walking in and I KNEW how great of a session hers was going to be.  She was in my studio to celebrate her body and she absolutely slayed it!!!
Thank you SO MUCH for this review, babe.  I know I'll see you again.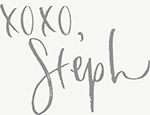 _____________________________________________________________________________________________________________________________________________________________________
For a couple of years I had been wanting to capture my body and put it on the wall to showcase for ME. My session was all for me from the beginning, nobody else. I didn't care if anyone else saw it, but I worked really hard to design the body I wanted and to be proud of that. I was nervous, but OH, SO EXCITED.
I actually had the photoshoot planned for 2 and 1/2 months and I found out 3 days before the photoshoot that I was pregnant! Stephanie was the third person I told about it! So when I had found out, my feelings about the photoshoot changed in such a good way. I wanted this photoshoot to not only showcase my hard work, but to showcase my body and how far it had come before it grew a human, since I knew that after having a baby, it would be a completely different body to be proud of.
As soon as I walked onto her front porch steps, Stephanie was standing there with her arms wide open and a huge smile on her face to welcome me into her home. I have never felt more "love" from meeting someone for the very first time than I did in that moment. She made me feel like we had been best friends for the last 6 years. Told me how to pose, jammed music, danced, laughed – it was literally a girl's day!
Would I do it again? Absolutely, hands down I would. I traveled 2 and 1/2 hours to her studio and I would drive 6 hours to her studio with how amazing she did and the experience in itself.
Now I love the fact that I have pictures and an album to look back on my pre-baby body. That was a body that I molded in 27 years. That was the body that got me through break ups, abuse, a rough childhood, 6 years of college, depression, and most of all –  survival.