If you've ever met Ms. K, you know how outgoing, vivacious, and zesty her personality is – these are all HUGE compliments. (And all things I aspire to be!!)
If you read below and how she struggled with her body image – I think it's crazy some women say they were nervous and I don't have a clue!  Even better when they love their photos so much they can barely narrow down to 35 – even 50!
We chatted about wedding plans and other things as I snapped away and I felt like we had been friends for years.  She read and listened to my wardrobe a prep guide and came fully prepared with the most positive attitude.  I remember vividly taking the photos of her on the mirror – how effortless it was and how beautifully confident she was.
Fast forward a month or so and I see her wedding photos pop up on Facebook.  Then she sent me photos of her hubby opening up her boudoir album as a gift.  My whole year was made!!!!
Thank you SO MUCH Ms. K for this review. I know we will do another one of these and you'll slay it again!!!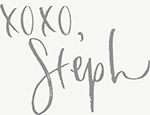 ________________________________________________________________________________________________________________________________________________________________________________________________
I initially wanted to do a session after I had a very rough few years with lots of hard times in my life! I had lost a lot of weight and at my most comfortable place I had ever been with my body! I was added to Stephanie's VIP group on Facebook by a friend of mine and constantly saw beautiful photos that made my curiosity about doing a session rise even more! I absolutely loved how excited and body positive Stephanie was with a wide variety of women of all shapes and sizes! I never got around to booking a session and as my weight climbed I became far less confident in myself and was too scared to move forward with a session. I then met my now fiancé who loved my body the way it was even as I continued to gain weight, and then I decided I would book one for his wedding gift to surprise him with!
When I booked my session I was nowhere near as confident as I initially was when I learned about Stephanie. I was very worried about my stretch marks after carrying three beautiful babies and my scars from surgeries I have had and I was nervous I wouldn't like any of the photos even to order any! But I am slowly learning to love my body and while I didn't get to where I wanted to be before my session, I was incredibly surprised by how awesome my experience was regardless!
I originally planned on doing my session for my fiancé, which I definitely did, but the canvas I ended up ordering was my favorite photo and showed me I can still be sexy no matter my size or being a mom! It gave me confidence opening it up when it came and I can't wait to hang it in our bedroom to remind me daily to love myself!
From the moment I rang the doorbell and was greeted with a huge hug, it felt like Stephanie and I were forever friends! She made me feel comfortable in HER home instantly! I already knew the makeup artist and hair stylist but still had such a blast getting glammed up! They both were so relaxing to talk to and helped me calm my nerves!
Walking into the studio I expected to be overwhelmed and worried but it was the complete opposite! It was so fun with music playing and candles lit! And Stephanie selected a sweater for me to wear from her client closet and it was very comfortable and turned out great in the photos!
After my session, the confidence I got seeing my untouched images actually motivated me to focus on my favorite attributes in myself rather than focus on my flaws! Stephanie made me feel absolutely gorgeous during my selection session! I would absolutely do it again!! I love all the variety of sessions she does at times and hope to be able to do something out of my comfort zone! The pool sessions look amazing and so do the bath tub ones!!
My favorite part of the whole experience was how comfortable and natural Stephanie made me feel. Even completely naked I never felt judged. She helped pose me and at times the whole thing felt really natural and not awkward in the slightest! It gave me such a much needed confidence boost and helped me to feel sexy again!! Now I feel beautiful and confident everytime I sneak peeks at my photos and can't wait to see my fiancé's reaction when he gets to open his album! Thank you so much for this opportunity! It was such a blast and I can't wait to do it again in the future!!