Most women who want to do a boudoir session for their significant other end up realizing it helped themselves MORE than any gift for someone else.  Although I don't remember Ms. A being nervous at all, it's so awesome to know that just getting a moment to chat and drink coffee helps calm the nerves.  And the badass women who do hair and makeup for me?  I'll never stop highly suggesting to hire them. I KNOW they're worth every penny.
Thank you SO much babe for this review!  I know I'll work with you again… or at least watch The Bachelor and eat junk food sometime! 😉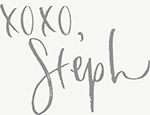 _______________________________________________________________________________________________________________________________________
My first thought after scheduling my boudoir session was, "What in the hell did I just do?! There is no way!" I said to myself, "Ok, now this is a reason to workout and eat healthy." – as I wanted to look good.
As time passed and the closer it got to my session date, I hadn't worked out or eaten any healthier. But let me tell you, when I walked into Stephanie's house she greeted me with a hug and I felt so welcome! She made me a cup of coffee and we sat on her back deck for a short while chit chatting! It wasn't odd or awkward talking to this complete stranger – seriously, it felt like I was talking to one of my best friends!
Hair and makeup are seriously a must! Michelle and Lindsey are seriously amazing! Honestly by just have my hair and makeup done I felt fucking hot! I love the way Michelle curled my hair in loose beach waves and Lindsey killed it with the eye makeup!
Going down into the studio I was seriously so damn nervous! But once I got changed and Steph started posing me, all the nerves and insecurities I had left! Steph made me feel on top of the world during my session!
Once returning to see my photos I was literally in shock! Steph did an amazing job capturing and reminding me of how sexy I seriously am! Ladies, let me tell you – going nude is 100% a must, seriously some of my favorite photos!
The whole reason I scheduled a boudoir session was to give the book as a gift to my husband. But honestly it was one of the biggest and best gifts I have ever given myself! I have never felt more beautiful and on top of the world than I do when I look at my amazing photos! If you are on the fence about doing a boudoir session, just schedule the damn thing and do it! Seriously you will not regret it, I promise you that! I can not wait to do another session with Steph!