I have to admit, it has taken me some time to pull back on being SOOOO excited to photograph someone, that when I work with someone as sweet and calm as Ms. S, I want to make sure I'm not a total crazy person. (My clients will understand how hyped up I get!) HAHA!!!
I absolutely love how she said she mentioned following my page for a while before booking and then SLAYED her session.  That's 100% normal for every woman!
Fun facts:
The HARDEST part about doing a boudoir session is finally making the decision to book.
The SECOND HARDEST part is showing up at my door.
The THIRD HARDEST part is coming out of the changing room with lingerie on.
THE REST?  I promise I make it as easy and fun as possible.
Thank you Ms. S for trusting me on your journey!!!  I can't WAIT to see you for your 40th to help you celebrate YOU!!!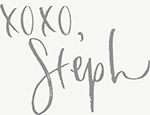 ___________________________________________________________________________________________________________________________________
When I booked my session I had been looking at Stephanie's Facebook page quite a lot and kind of enviously. Then I just thought, "Why not do something that would really push my typical limits?" – generally I'm kind of an anxious person, but I really felt that it would result in me feeling amazing. I also knew my husband would be absolutely shocked and proud that I would push myself!
From start to finish everything was taken care of, and initially I was going to do my own hair and makeup, but then I realized that it would be easier and stress-free to let someone else worry about it. Everything was beautifully done and I could not have been happier!
The studio was beautiful and relaxing. The best part honestly was Stephanie, because if it wasn't for her warm personality, making me feel completely at ease and out of my own head to judge myself, I would have never been able to do any of it. When I left after my session I remember feeling absolutely amazing about myself and the whole experience really changed me.
Looking at the pictures, I'm really proud of them, and it changed my perspective of myself to a much more positive one! The reception I received from family and friends who Iooked at my photos also felt great. I would definitely do another session, like my 40th bday in a few years. I truly can't thank Stephanie enough!