Kacy booked her session for my summer marathon weekend.  All I remember is that she was the last client I had that entire weekend, and when I walked upstairs from the studio the atmosphere was transformed by her upbeat, bright, and sassy personality. I knew the session was going to be awesome.  She may have said she was nervous, but I couldn't tell at all.  She was really up for having fun and playing around (part of that positive personality!) which made me instantly forget about how tired I was from shooting all weekend.  She's my people – and I'm sure you're going to see more of her!!! (She may have just booked her second session!)
Thanks for so much fun and for the review, Kacy!  Your'e a babe.
Makeup: Lindsey Faber, Makeup Artist
Hair: Rhiannon at Lavish Beauty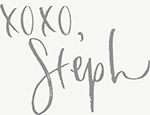 _________________________________________________________________________________________________________________________________
Ever since my friend added me to Stephanie's VIP group, I wanted to do a boudoir shoot! I hesitated for quite sometime. Overall I didn't see myself as sexy when I looked in the mirror. When Stephanie posted about a marathon special my friend tagged me in it. Even then it took me a few days to pull the trigger. I don't know what changed in my mind, but I just emailed Stephanie with all sorts of questions, filled with nerves.
I'm self conscious of my body. I have two kids and the loose skin and stretch marks to prove it.  Being half naked in front of a stranger really is a turn-off. I quickly found out that I was so wrong to have those nerves! I had no clue what I was doing. I've never purchased lingerie before, so I was pretty lost. I had no clue what to wear or what would look good on me, so I went with some random pieces I found online and hoped they would work out.
When I stepped inside Stephanie's house I already knew it was going to go amazing. The vibe you get once you step inside is unbelievable! Her home is such a warm place. I felt like a pampered princess getting my hair and makeup professionally done! With all the drinks and snacks I could eat, I felt comfortable and at home. Lol
Stephanie's studio is just the cutest! She has great style and a keen eye for detail. I love it! Before we even started she asked me to show her my outfits and gave her opinions on them, which was helpful! We discussed how I wanted the shoot to go. I honestly had no clue what I wanted. I was nervous and had no clue what to do or how I wanted the images to look, but Stephanie helped and coached me into some fun poses. Seriously she makes you feel like her best friend. So humble, nonjudgmental, she can calm the craziest of nerves. I think it's her tone of voice and genuine happiness that makes her shine, but not as close as to how she makes you shine in your images. I was expecting to go to her studio, try to pose and act sexy then leave. BUT I was wrong. My best advice would be go into this with an open and calm mind. She seriously does the work for you! I didn't have to think!
When I went to look at my photos, boy was I blown away! I just couldn't stop admiring the woman on the screen. Seeing myself sexy and all dolled up is such a confidence booster. Like wow, Stephanie can make a huge bundle of nerves look like a sexy badass! Obviously I had a tough time picking out what photos to keep, they were all phenomenal. I love Stephanie and what she does for women! <3