I'll never forget that I severely messed up my schedule with hair/makeup for Allison's session.  It was either that or I got the date wrong… either way I was mortified (this happened ONCE the entire year!) and she was so incredibly understanding and gracious.  I knew immediately just by her emails that we were going to get along really well.
Trying new poses and playing around is one of my favorite things to do.  When you combine fierce posing, a stunning woman, and INCREDIBLE lingerie (HELLO leather jacket!!)- you get the most amazing photos.   I was even more thrilled she bought a HUGE canvas to hang in her home above her desk as a constant reminder of how badass she is.  Keep that tip in mind, ladies!!!
Allison, thank you so much for putting up with my shenanigans and for SLAYING your session.  I can NOT wait for your second session in just a few short months!!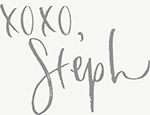 ________________________________________________________________________________________________________________________________________
Working with Stephanie was such a dream! I wanted to do a shoot with her because I saw how many women were singing her praises, and I had always wanted to do boudoir before and just never took the chance.
I'm so incredibly happy that I booked a session with her. I needed something in my life that was all about me and just for me to enjoy. I have felt such a strong sense of empowerment, fulfillment, and badass-ery since our shoot on Halloween (my second favorite holiday!), and I immediately called my mom after to tell her how awesome it was.
I knew from the first set of photos that I would be going back to Steph for more and more sessions. She is one of the most amazing people I could hope to meet, and she is so compassionate and understanding of any concerns you may have. What a coach! What a woman! If anyone is on the fence about booking a session, stop. Book it now!