Laurie's session was ONE hour long, and I'm pretty sure she holds the record for how many images delivered in a session.  She absolutely owned her sexy (and we had so much fun laughing!) and as a result – I'm showing you just a handful of what was delivered in her heirloom album.  I can't wait to work with this stunning woman again!!!
Makeup: Lindsey Michelle: MUA (Lindsey Faber)
Read a little about what Laurie thought of her session in the studio: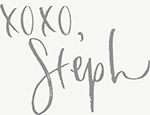 _______________________________________________________________________________________
I have always wanted to have boudoir photos taken.  Stephanie had done a couple of friends' photos and they were amazing, so I knew she was the right photographer.  Since my boyfriend's birthday was coming up and I wanted to give him an extra special gift, I scheduled a spot during one of her marathons.
I was the first woman scheduled, but there was already so much energy in Stephanie's house. I felt very welcome with a big hug from Stephanie. Her house was clean and smelled great!
The makeup artist, Lindsey, is a fun person who is easy to talk to.  She brought even more energy to the room and did a fabulous job on my makeup!   I was shocked when I looked in the mirror.  I looked exceptionally beautiful.  Her makeup made my eyes pop and enhanced my beauty in the pictures.  I loved my makeup so much, I didn't want to wash my face that night.
I was surprised by how at ease I was in front of the camera.  Stephanie made me feel so comfortable. Stephanie's studio was neatly set up and like the options of furniture and backdrops to provide variety in the photos.
I felt amazing during my session!!!!!  It was liberating to be naked in front of the camera.  I felt free to be my real sensual self.  Stephanie made me feel so comfortable that I was able to walk out nude without even thinking about it.  Other than talking on the phone, my session was the first time we'd ever met in person.  I didn't want the session to end.
After the session I felt so beautiful and confident!  I felt like a diva!  It was an exhilarating experience.
I already have referred friends and have shown off some of my photos to show her beautiful work.
What I love most about my experience is how amazing and beautiful it made me feel.  I was in disbelief that the photos were of me when I saw them.  She captured my personality, sensuality, sexuality, my true self so perfectly.  We don't always see ourselves like other see us.  It gave me a different and more positive perspective of myself.
I loved it all!!!!!!!!!  From meeting Stephanie to getting my album in the mail.  
I cannot thank you enough for making my boudoir session a wonderful experience!  I am so happy with all of the photos.  The album is GORGEOUS!!!!!!!   You have been so great to work with.  I look forward to future photo sessions with you whether it's boudoir or family pictures and I will continue to refer you to all of my friends!!